Experience the delight of riverside paradise
Netravathi Resort
About Us
A Riverside Resort In the Bengaluru – Mangalore NH
Netravathi Resort is a traditional world-class resort located at Uppinangadi, Puttur. It is set beside the Netravathi river that flows through the property which is well-furnished in a contemporary style. We offer a space that provides a perfect family holiday in the luxury of nature. We provide customized experiences with a focus on comfort, food, and security.
Our guest's comfort is a top priority for us. We will not compromise on the services we provide for them. I extend a warm welcome to all of you to experience our hospitality.
Mr. Madhava, Director
Stay Safe
Marriage Hall with Safety as Priority
You can now organize your memorable event at Netravathi Resorts!
We have turned out our beautiful hall into a place where you can arrange an occasion by gathering your 50 family members and friends. Keeping your health as a top priority, we have arranged an indoor area which is perfectly suitable for your special occasion and a small number of family gatherings during this COVID pandemic. The place on the event day, will be well-equipped as per the government rules and regulations. And all the required precautions is been taken in order to keep our guests healthy.
Max of 50 people can stay at a time.
Strict maintenance of social distancing.
The hall will be enclosed using specific techniques and materials.
Thermal scanning for all the guests.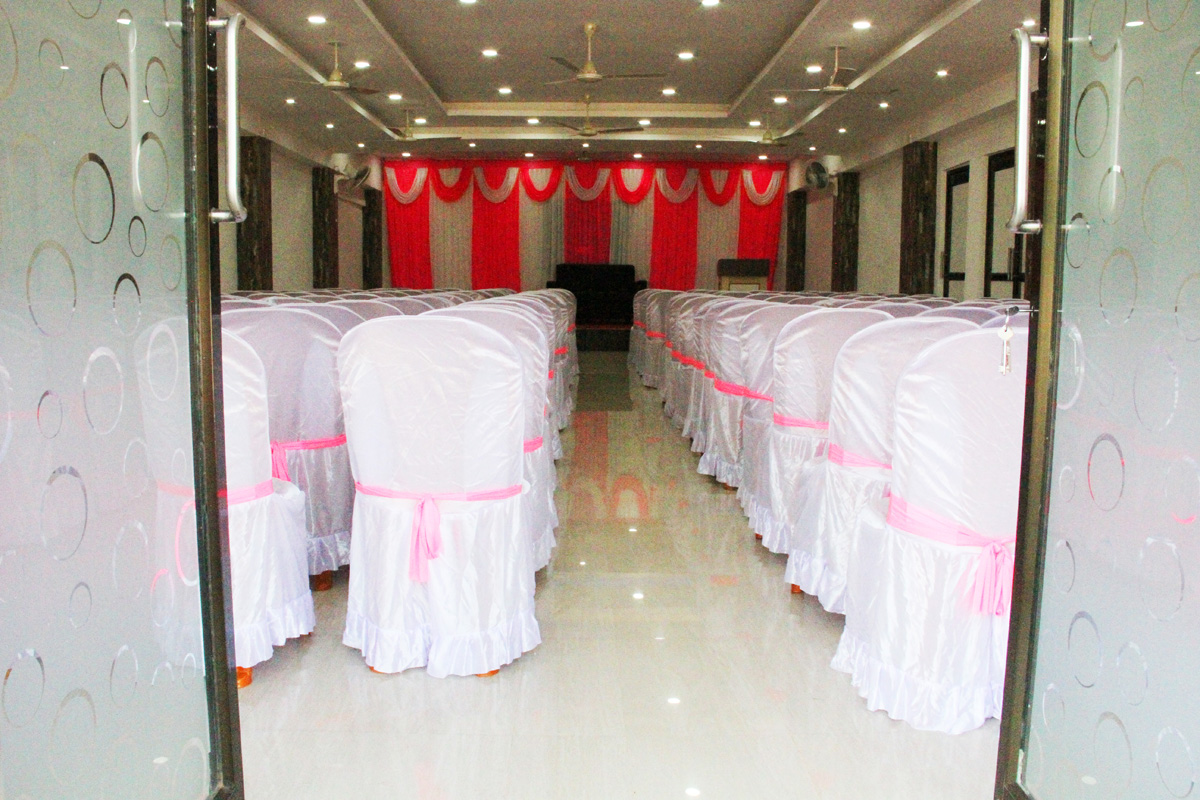 Discover
Rooms & Suites
Our resort has several rooms designed to be in harmony with nature, they are bound to take you to a mystical, distant place.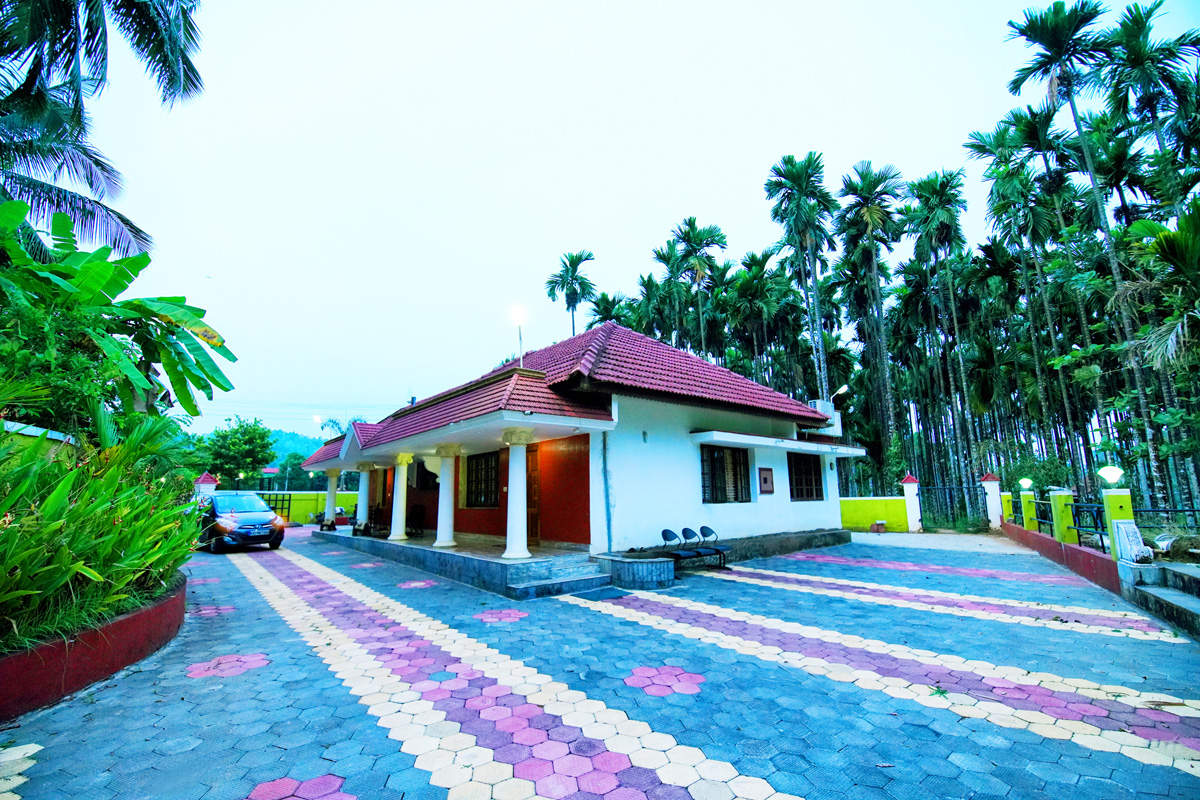 The Luxury Suite
This house is built for family's perfect luxury stay. The suite consists of 4 Luxury rooms which are fully furnished. This is a complete home with dining room, bedroom, living room and a large front yard. Our luxury suit was made in plan with the modern artwork style with the modern facilities.
Price Per Night
Starts from ₹4500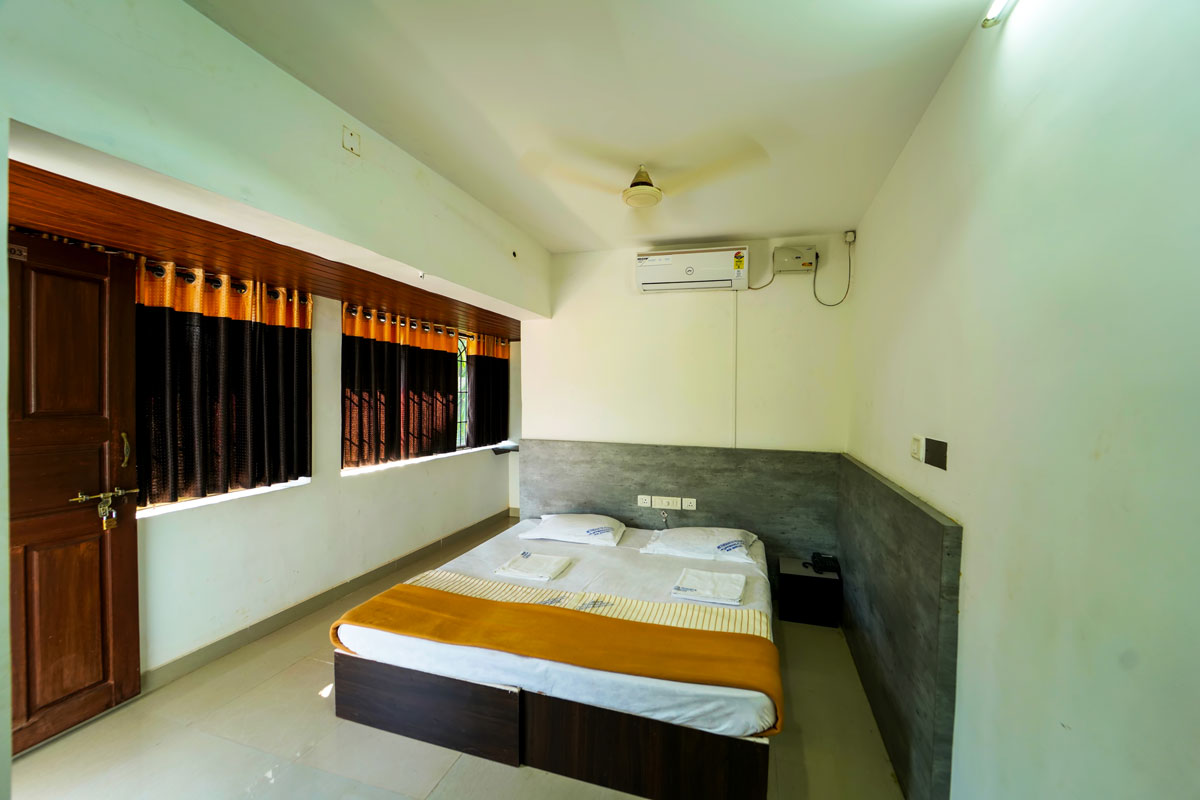 This is a room with the facility of 1 double bed. It is equipped with adequate furniture such as dressing table, writing table, TV, intercom, AC and hot & cold water facility.
1 Double Bed
Price Per Night
Starts from ₹2000 + GST
These rooms are well furnished with an attached bathroom, dressing table, bedside table, small writing table, Wi-Fi, AC, and a TV. If required there's a provision to add one more cotton bed.
1 Double Bed
Price Per Night
Starts from ₹2500 + GST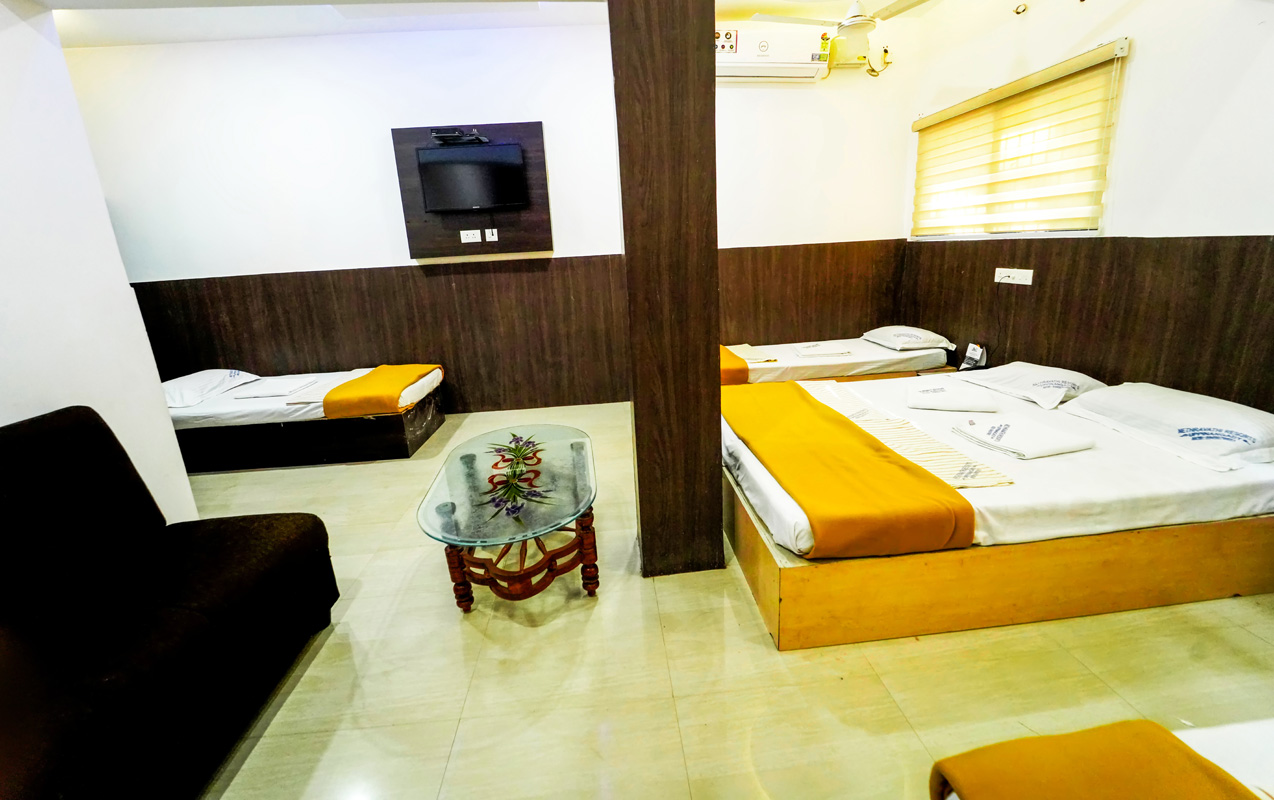 Hollywood Deluxe Room
Emerald
This room provides one double bed and two single beds with a common headboard. If a need arises, the two beds can be brought together to form a double bed. It is equipped with adequate furniture such as dressing table, showcase, writing table, TV, intercom, AC, Wi-Fi, and hot water facility.
1 Double Bed + 2 Single Beds
Price Per Night
Starts from ₹3000 + GST
Delicious Food
Happiness is more, when food is best.
Lunch
Food is provided for every guest on their stay at our resort for an extra payment. Our lunch includes all types of Indian recipes and our resort is more specialized in North Indian dishes and veg meals.
Dinner Upon Request 
Dinner in our resort will be provided on request. Our dinner is included with all types of Indian recipes and our resort is more specialized in North Indian dishes and veg meals.
"I would love to recommend all my friends regarding this resort, this was one of our super stay with the shelter of Nature. The rooms are clean and are not less than any luxurious suites all over Karnataka. Thank you Netravathi resort!"

Netravathi River View
Through our resort you can witness the magnificent view of the Netravathi River.

24 Hours Checkout
We have no time – limits on the visitors' checkout time at our resort.

Free Wi-Fi
Free wi-fi to stay in touch with the happenings of the world.

AC
Each space has an AC which provides an excellent ambience on all weather.
Television
All our rooms are well fitted with LED television with popular channels.

Multi-Cuisine Restaurant
Our restaurant will satisfy your taste buds during your stay in our resort.

Security Cameras
Our resort surroundings are vigilantly monitored by security cameras for safety and security.

Dining Hall
Dining halls to have your food privately with your family, friends or colleagues.

24 hour hot water supply
All the bathrooms are fitted with Water Geyser. 

Washroom Facilities
We have separate washrooms for the convenience of male and female visitors.

Parking Available
A huge parking area which accommodates between 200-300 cars.
and more
Accommodation for accompanying drivers
 The drivers will be given separate rooms to stay along with your package.
Checkin & Checkout
At our resort, you are welcome at any time. Pre-booking is must for late-night check-in. There is no restriction on checkout time. You should submit your identity proof while you check-in.
Cancellation Policy
Reservations can be cancelled up to 12 hours before the date of arrival. All reservations cancelled after that would be charged retention amounting to one night's room tariff and taxes. 
House Rules
A proof of identity such as Aadhaar/Voter ID is required for booking and is also to be produced at the time of Check-in at the hotel.
Party Halls
Host your event here!
Information
Location & Nearby Attractions
Make the most of your trip when you stay in our resort. Listed below are some of the most sought after places.
Kukke Subrahmanya
This is a Hindu temple located in the village of Subrahmanya, Karnataka which is distanced 33 km from Uppinangady. In this temple, Kartikeya is worshipped as Subramanya, lord of all serpents backgrounded by the famous mountain Kumara Parvatha. 
Dharmasthala
Dharmasthala is located 36 km away from Uppinangady. The centuries-old Sri Manjunatha Temple is a place of Hindu pilgrimage known for its divinity and a large statue of the revered figure Bahubali. Nearby, the Car Museum features vintage automobiles, including a 1920s Studebaker used by Mahatma Gandhi.
Southadka Mahaganapathi Temple
Popularly known as Maha Ganapati Kshetra located 22 km away from Uppinangady. The uniqueness of the place is Lord is out in the open field without a 'Garbha Gudi' and temple structure. The temple is decorated with lots of Bells offered by worshipers who have special wishes. Away from the main road, this temple with no formal structure surrounding it offers a unique experience.
Ermai and Didupe falls
Ermai falls is multi-level waterfalls and if you are a little adventurous, then you can go and stand behind the waterfall in the middle level. Falling from a great height, the outpouring Didupe creates a pond structure in the base. It is at 47 km from Uppinangady.
Tannirbhavi
Tannirbhavi is distanced 60 km away from Uppinangady. It is one of the most popular tourist destinations in coastal Karnataka. Along with the beach, Sultan Battery, Tannirbavi Tree Park & the proposed Marine museum are also the tourist attractions.  
Trekking - Gadaikallu
Distanced 35 km from Uppinangady, Gadaikallu is one of the admired trekking locations all over as it not only provides the trekker with a wonderful climbing experience on to the hill but also exposes one to nature's boundless beauty. The best feature of this trekking spot is that it has the steps to climb unlike most of the trekking places where the trekkers have to blend all their energy to climb the intricate mountain path.
Trekking - Bisle Ghat
This is located in a distance of 48 km from Uppinangady. Bisle Ghat is the best picturesque destination of Karnataka and is rewarded as 'heaven on the earth'. Bisle Ghat is a perfect destination for the trekkers. Not only because of its breathtaking view but also it is one of the toughest trekking routes in Karnataka. 
Trekking - Kumara Parvatha
The famous mountain Kumara Parvatha is a popular hiking destination for trekkers from across South India. The peak is at a height of about 1712 meters and is located at a distance of 13 km from and east of the famous Kukke Subrahmanya temple. Although from distance the mountain looks as if one single peak but in reality, it has three peaks called 'Shesha Parvatha', 'Siddha Parvatha' and 'Kumara Parvatha'. 
Manjarabad Fort
Manjarabad Fort is distanced 60 km away from Uppinangady. This fort is considered to be one of the few forts built on the pattern of military architecture. This fort is in the star shape and was built in 1792. Since then, it has been standing strong and certainly narrates its legends of survival and existence. Take time and visit this ancient place once.
Someshwar Beach
This is just a 53 km away from Uppinangady. Someshwar Beach is a beach located in Ullal in the city of Mangalore, India. The name 'Someshwara beach' is derived because of Lord Somanatha temple standing since several centuries on the sea shore. Someshwar beach is well known for the large rocks called "Rudra Shile". 
Testimonials
Guest Reviews
When I was on my way to Subramanya, one of my friend recommended this resort. The rooms are well-furnished and are very hygienic. Also, the restaurant has served us with whatever we suggested them with.  I would highly recommend this resort for your super stay! Thank you.
Nice place for family and friends to visit. When you feel "some one please take me to the different world" this is one of the best place to enjoy. I like the managing team the most because they were so friendly. Thank you!
Thank you for this beautiful stay! An amazing place to calm down with your family. We can call it as a nature-friendly resort with beautiful views surrounding. And the food is also so yummy. We will surely recommend our friends as this is one of our perfect stays. 
In a busy schedule of my life, it was my stay of one whole day. The place is silent and serene in an atmosphere which made my mind refreshed and it was really a pleasure to be a part of this beautiful resort and restaurant. Thank you, team!
This is a perfect place to hangout! A Luxurious space for those looking for space and privacy. I would surely tell my friends to experience this stay on their visit to Mangalore. 
Visit Netravathi Resorts
Enjoy the serene nature and culture!
The resort has a corridor running around the building  and a greenery where the resident birds sing for your pleasure day ahead.